Too often, a politician's social media presence is a sanitized product of personal branding and messaging, run by risk-averse consultants or PR firms that fuss over every phrase. That's why Mayor Annise Parker's Twitter has always been such a refreshing breath of fresh air. Whether it's addressing a citizen's concern, commenting on local or national politics, or anything else, she's always very frank to say what she thinks, perhaps sometimes to her staff's concern.
@dsilverman @VanceMc14 Until I get a little too real, and then my communications team calls and says to stop tweeting.-A

— Annise Parker (@AnniseParker) September 8, 2015
Here are the Mayor's top 10 zingers of 2015, ranked in severity of burn.
10. Squirrels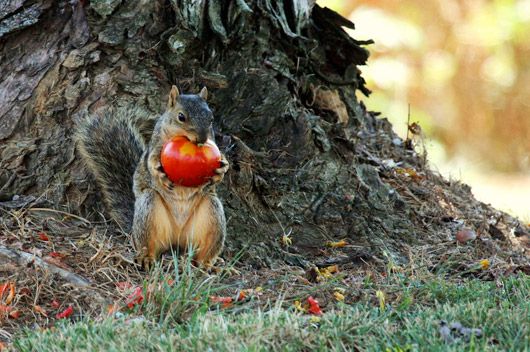 Really? $&?#**! squirrels! First tomatoes just changed color, a few days from perfection! Gone!-A

— Annise Parker (@AnniseParker) May 23, 2015
Squirrels of Houston, you win this round, but consider yourself On Notice.
9. Houston Chronicle writer Evan Mintz
Mintz wrote up a fantastic Game Of Thrones-based guide to the 2015 Houston mayoral race.
@evan7257 @Sanjeeeezy I found it entertaining, though "Houstoneros" is a big fail. It would rate as neither your goofiest nor your worst.-A

— Annise Parker (@AnniseParker) August 2, 2015
Later, he pointed out an apparent difference between the civic focuses of Austin and Houston.
@evan7257 Houston's City Hall is next to a performing arts venue, library, courthouse and skyscraper. The sound of your analogy imploding.-A

— Annise Parker (@AnniseParker) August 29, 2015
8. Houston's Terrible Motorists
Soon after completion of the Lamar Street protected bike lane, cars parking in it became a problem. The Mayor wasted no time calling them out.
@SpanshFlea @HoustonCM @BikeHouston @MassHouston @houstonpolice Some drivers are idiots. We're now adding "no parking" signs. Will ticket.-A

— Annise Parker (@AnniseParker) April 3, 2015
Houston gets a lot of rain, so we get a few flooding events most years. Citizens are warned against driving into floodwaters. A common refrain heard during flooding from media, public officials, and regular citizens is, "Turn Around, Don't Drown." There's always those few that don't seem to get the message, though.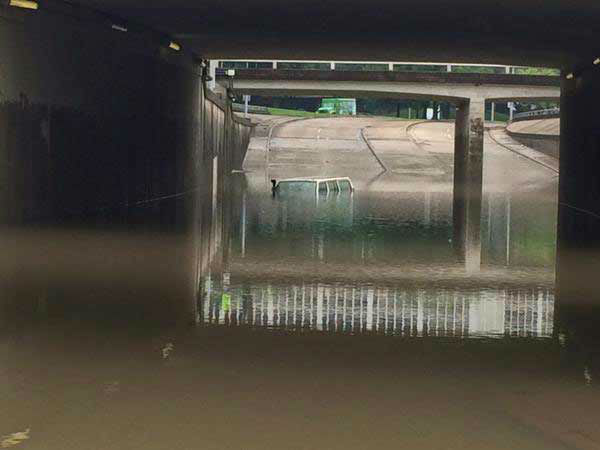 Has it not occurred to some people that when we park a police car sideways across a road next to an underpass it means DO NOT ENTER? -A

— Annise Parker (@AnniseParker) May 31, 2015
And then there's the texters.
Tell me you haven't wanted to do this while sitting at a green light behind some idiot on their cell phone. Mach5.-A pic.twitter.com/BySSE1FFiI

— Annise Parker (@AnniseParker) May 24, 2015
7. Newstonians
Tens of thousands of people move to Houston every year from all over the world, and we welcome them with open arms. Still, we can't help but grin when we see those tell-tale signs that we're talking to a Newstonian: They like an imported taco shop, they prefer an east coast donut shop over a Houston-born one, or they don't pronounce bayou correctly.
"Harpo, where dis woman from? @AnniseParker keeps calling them "Bye-YOHS"! They are "Ba-YOUS", lady! Lol"

— Texas Conservative (@LatinosforCruz) May 26, 2015
If you are from Texas they are "bye-yoh", from Louisiana "bye-you". It's how we know you aren't local.-A https://t.co/dHEz0w7ByL

— Annise Parker (@AnniseParker) May 26, 2015
6. Someone who blamed her for the weather
Amid all the rain and flooding, several events were canceled by the event runners, not by the City. That didn't stop people from sending their complaints directly to the Mayor.
@AnniseParker thanks for ruining my weekend

— Emily Glendinning (@EmileeGlendiggy) October 24, 2015
I love how I'm responsible for rain now. Such power!-A https://t.co/CXGndKrgLl

— Annise Parker (@AnniseParker) October 24, 2015
 5. Adrian Garcia
Following former Harris County Sheriff Adrian Garcia's defeat in the 2015 Houston mayoral race, he quickly announced he'd be running against Congressman Gene Green in the primary for Texas' 29th Congressional District.
Funny, I thought he wanted to be Mayor of Houston.-A https://t.co/OMyVmQgEZc

— Annise Parker (@AnniseParker) December 15, 2015
4. Carly Fiorina
Carly suggests she backs ousting GOP chiefs "I think leaders produce results. And if leaders don't produce results they ought to step aside"

— Teddy Schleifer (@teddyschleifer) September 24, 2015
Well, she has the voice of experience.-A https://t.co/jtyMcIYhjL

— Annise Parker (@AnniseParker) September 24, 2015
HP's stock fell 55% before Fiorina was ousted as CEO.
3. Texas Attorney General Ken Paxton
Paxton wants to guide interpretation of gay marriage ruling http://t.co/o7fcmQec6i

— Houston Chronicle (@HoustonChron) June 25, 2015
And I'm sure he'll do a great job, just as he did such a great job interpreting laws against securities fraud.-A https://t.co/VXXWOJjRyM

— Annise Parker (@AnniseParker) June 25, 2015
Just a little over one month later, Paxton was indicted for securities fraud.
2. Lance Berkman
As the most well-known opponent of Houston's Equal Rights Ordinance, former Astros player Lance Berkman filmed ads pressing for its repeal. The Mayor wondered where this apparently new-found opposition to equal rights ordinances came from.
Lance Berkman played in St. Louis. Guess his girls didn't go to his games! SL has a non-discrimination ordinance.-A http://t.co/gzEbKIYOd9

— Annise Parker (@AnniseParker) October 5, 2015
When Lance Berkman went from NYC to STL to play ball did he do it to escape NYCs scary nondiscrimination law?-A

— Annise Parker (@AnniseParker) October 5, 2015
Then Lance Berkman went to Dallas. Oops. Dallas amended its Charter to clarify gender identity protections. Can you spell hypocrite?-A

— Annise Parker (@AnniseParker) October 5, 2015
1. A Houston Equal Rights Ordinance opponent
Houston's Equal Rights Ordinance would have protected 15 different classes of individuals, but opponents focused all of their efforts on just one of those classes, gender identity, with a sycophantic and obfuscatory focus on bathrooms.
@AnniseParker was elected as an openly gay official nine times by the same voters that voted against #HERO and she calls us #homophobes

— Texan 4 Liberty (@Tex_4_Lib) November 5, 2015
No, actually I called you transphobes, but if the shoe fits…-A https://t.co/UwCnDZhu2H

— Annise Parker (@AnniseParker) November 5, 2015
Yowza!
Stay tuned to the Mayor on Twitter for the last couple weeks of 2015 to see if she sneaks in any more zingers before the year is out!