Since a bicycle is my primary mode of transportation, I spend a lot of time thinking (obsessing?) about things like cyclist and pedestrian infrastructure and access. Houston has historically been a city that is very hostile to pedestrians, with some of the worst infrastructure and safety record of the largest cities. The condition of many sidewalks is shockingly bad, or would be shocking if we hadn't been living and dealing with it for so many decades. We may be the fourth most populous city, but in many ways we haven't earned it, at least when it comes to providing a safe environment for our citizens to walk around.
That seems to be changing. For the last several months, when I ride from my home in Downtown to Montrose or Midtown, I make sure to ride down Bagby Street. That's because it has undergone a stunning transformation from a fast and dangerous street to a much more fair compromise between pedestrians and motorists. It is really something to marvel at, and makes me feel like I'm in Boston, Minneapolis, or Portland (cities which give very serious thought about how to build accommodations for pedestrians and/or cyclists).
A pedestrian bulb-out, or curb extension, is when a corner of a curb is built to extend out into the roadway. When a road has straight sides, it tends to cause tunnel vision by motorists. They're working to monitor conditions on the roadway and tend not to see what's happening on the edges. A bulb-out makes it much more obvious to a motorist what the pedestrians are doing. It reduces the amount of distance a pedestrian has to cross to get across the street.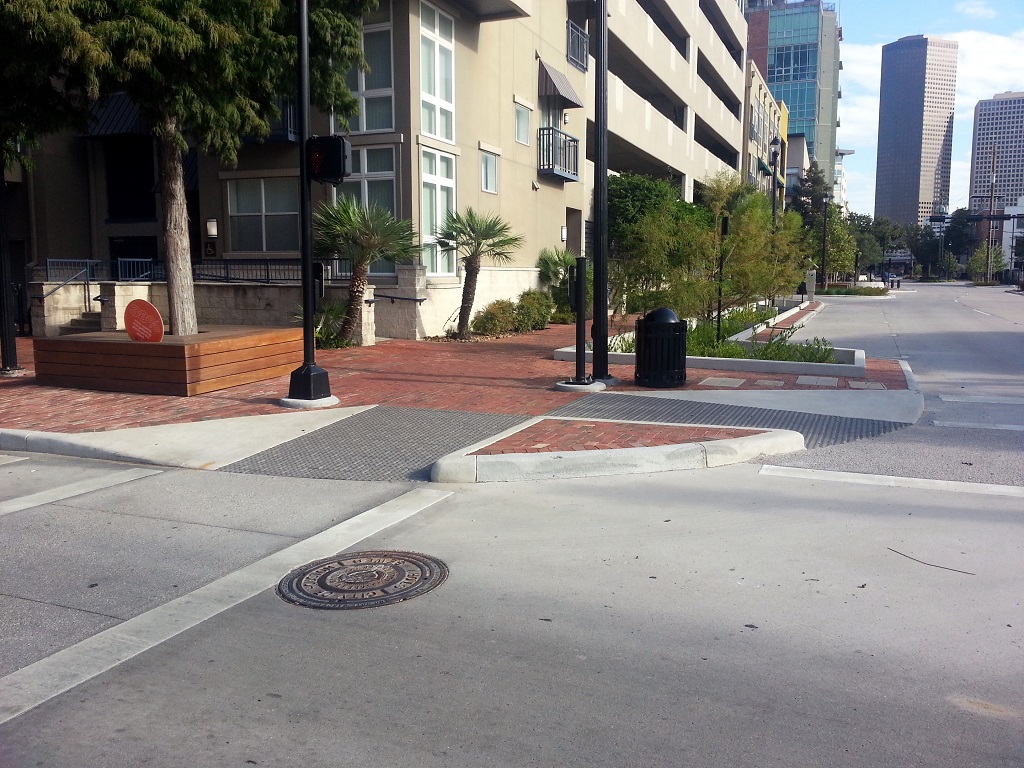 Note here that the rest of the lane is preserved for street parking. Illegal parking near the corner or blocking a crosswalk is essentially impossible.
Rather than running directly alongside the roadway, the sidewalk is separated with landscaping and other obstructions. Motorists don't have to worry about a pedestrian stepping out in front of them. Pedestrians don't have to worry about an out of control car jumping the curb and hurting them.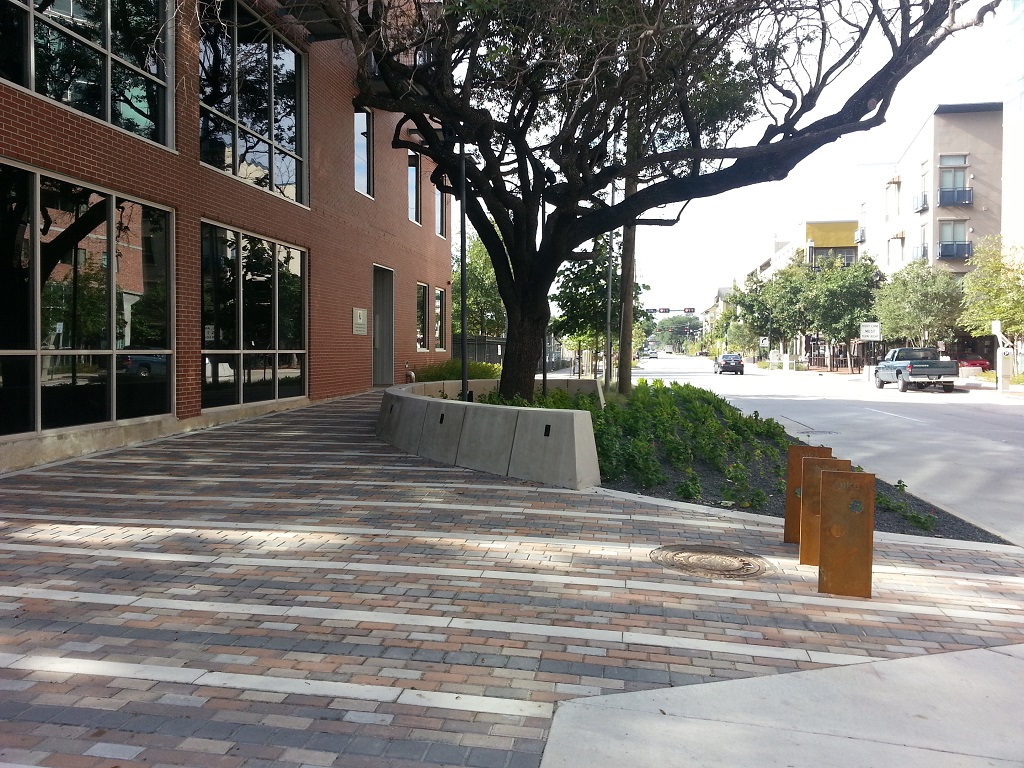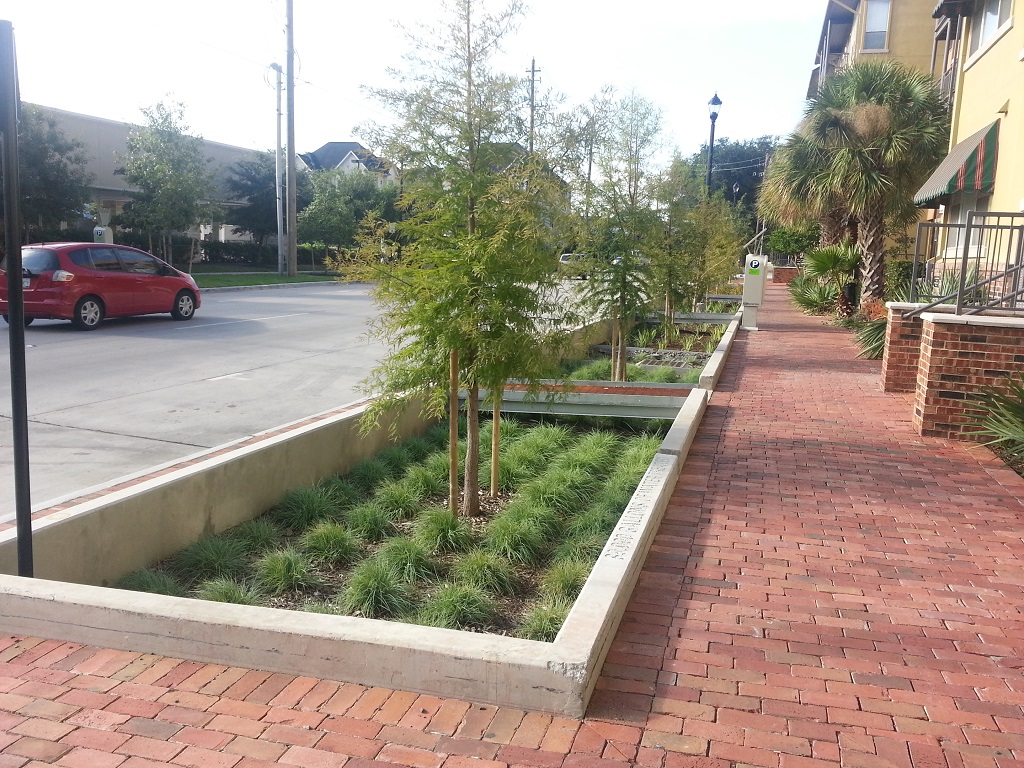 Artistic bollards protect the exposed corners that aren't landscaped.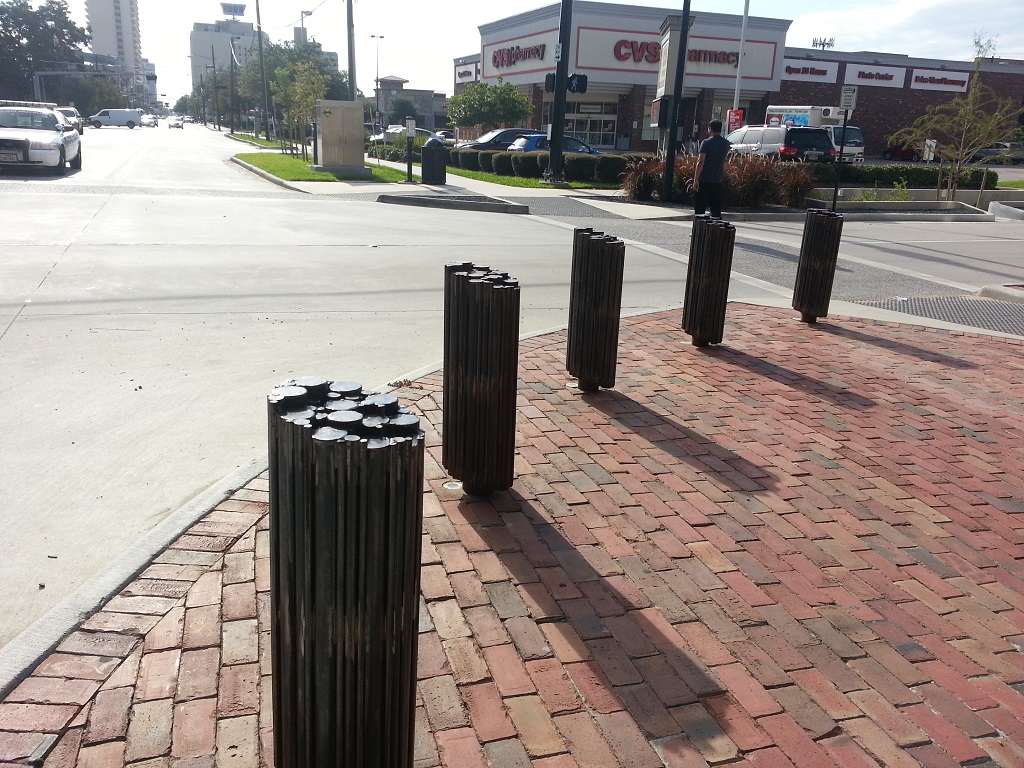 Metal grates or concrete steps provide access from the sidewalk to the street parking. This allows people to get to their car without walking along the busy street at night (one of the most common causes for motorist-pedestrian accidents in Midtown. An example).
Parking is allowed on both sides of the street.
Various seating areas along the sidewalks provide a free place to rest or wait for friends.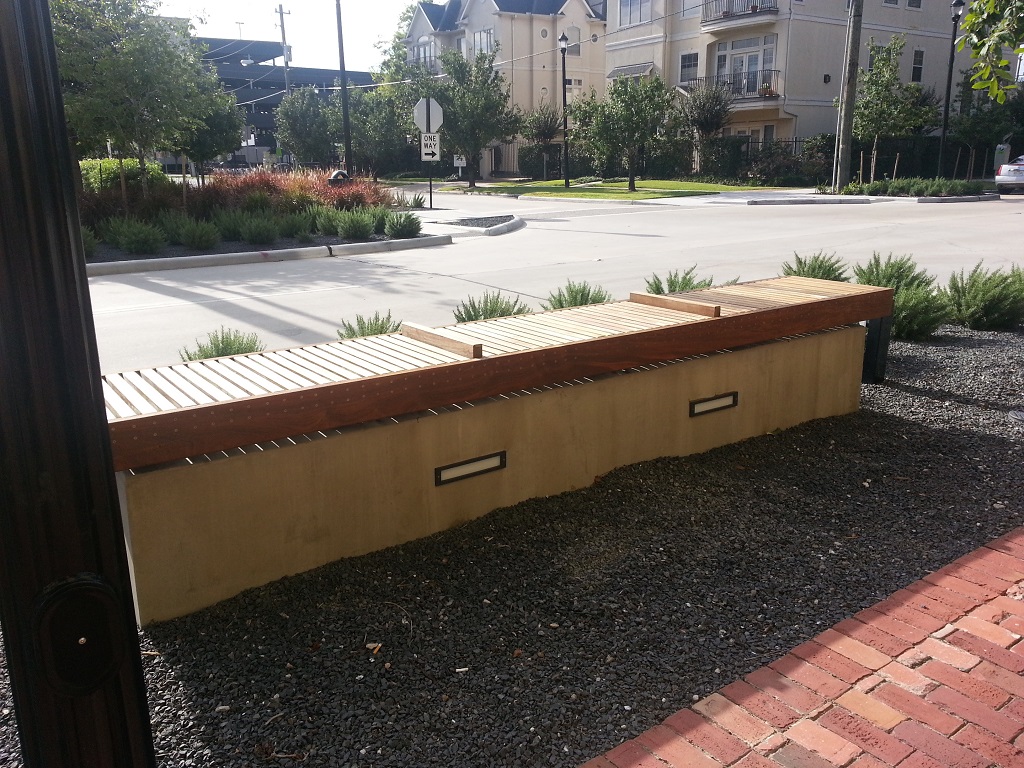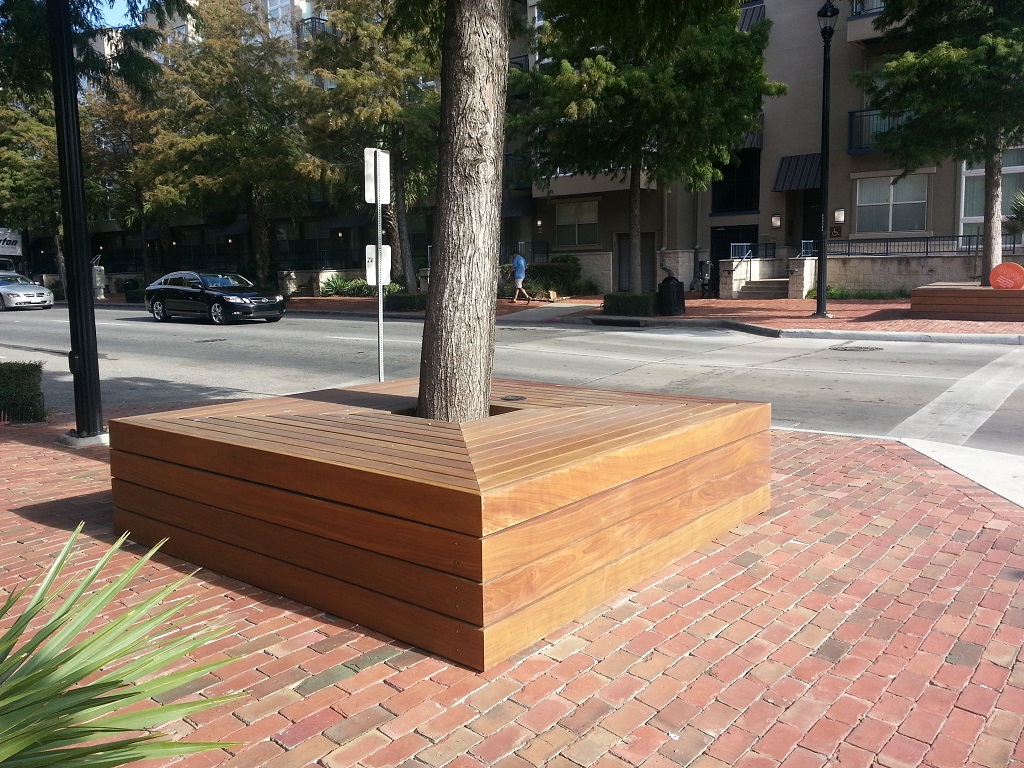 Signage is clear, and encourages safe pedestrian behavior.
Plenty of bike racks in the area give cyclists a chance to park, too.
This post is focused mostly on the pedestrian accommodations, but there was also a lot of thought put in to ecology and conservation. Why dump all the rainwater into sewers when some of it can be used to grow trees to shade the sidewalk?
Edit: The One World View blog has more about the sustainability aspects of the new street. http://oneworldstrongblog.wordpress.com/2013/10/09/sustainability-series-texas-first-greenroads-project/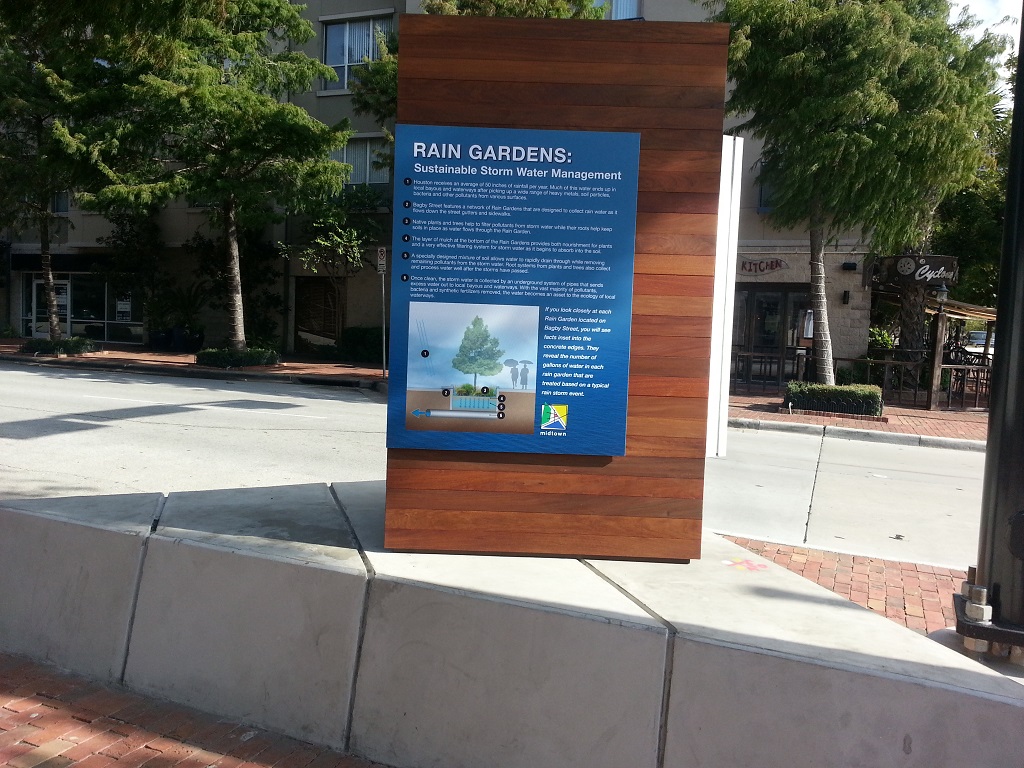 All of this meshes nicely with Mayor Annise Parker's new Complete Streets initiative, something also promoted aggressively by some on the City Council such as District H Council Member Ed Gonzalez. This and the Safe Passing ordinance signal a change in direction for the City, where there were previously precious few Complete Streets where pedestrian, cyclist, and motorist have a fair allocation of access (Heights Boulevard being one earlier example).
Bagby and the new changes underway on Navigation (more on that later) are two streets of which Houston can be proud!