The Vulnerable Road Users Ordinance that was passed by Houston's City Council requires motorists to give 3 feet of space when passing a vulnerable road user (cyclists, pedestrians, etc.)  This ordinance makes it impossible for a motorist to legally pass a cyclist on Main Street in Downtown or Midtown, as demonstrated in these pictures.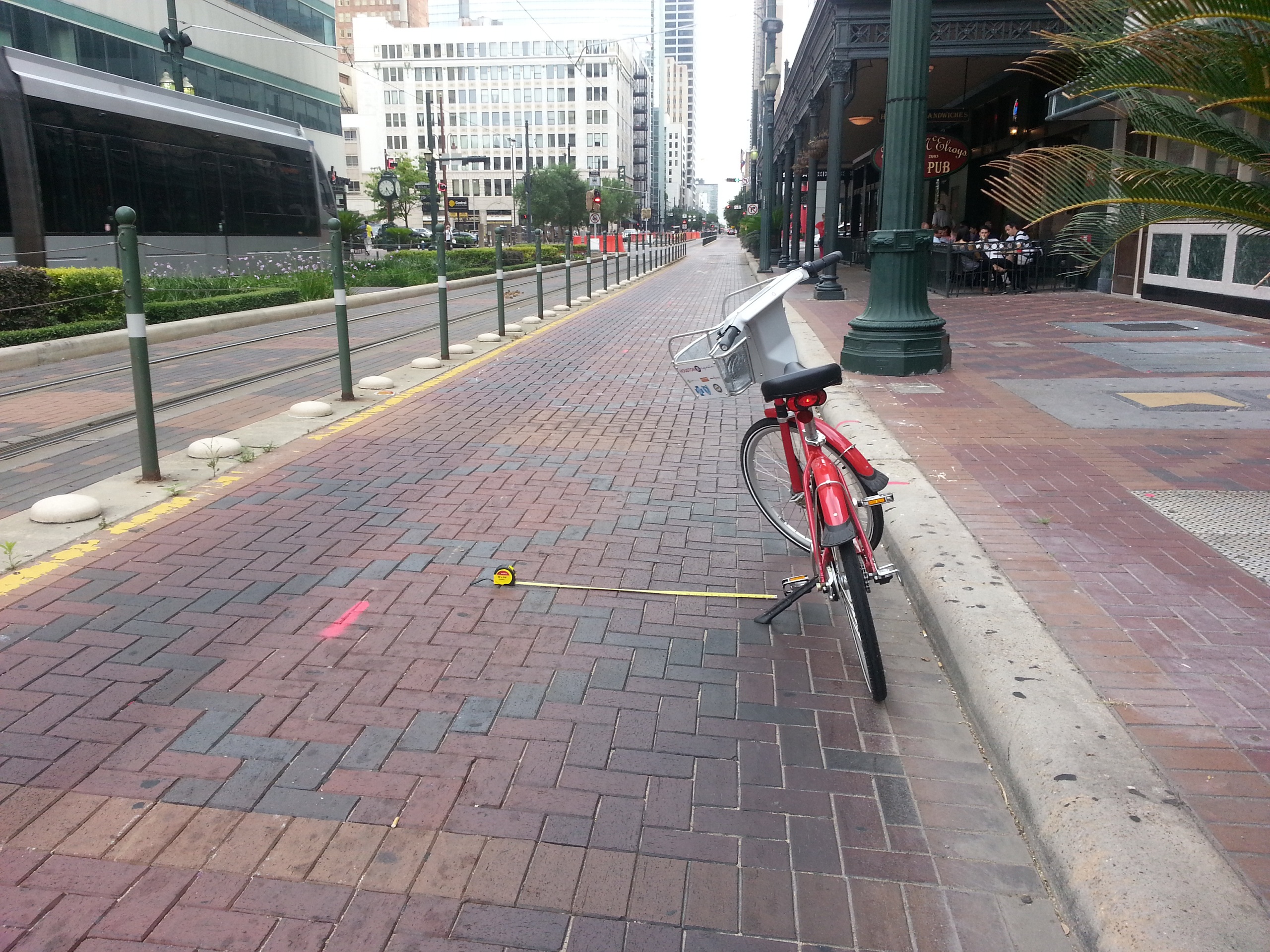 What if we were to close Main Street to motor vehicle traffic and make it an exclusively pedestrian and bicycle corridor?
It seems to me that it would enhance cyclist and pedestrian safety, encourage the type of walkable retail and bars/restaurants that Downtown needs, decrease motorist frustration at being stuck behind a bicycle, and enhance motorist and transit safety by eliminating the motorist [illegal] left turns that still hit the Metro rail cars sporadically.
Already, driving Downtown on Main Street is not ideal for a motorist. The ban on left turns and the pedestrian zone that cuts off Main Street at Main Street Square make it not very useful to a motorist for traveling through Downtown. If you add in now being stuck behind cyclists as well, it just seems to make more sense to re-route that traffic to Fannin or Travis, where there are plenty of lanes for cars to travel.
With all of the new businesses coming in on the North side of Downtown (Goro & Gun, Pastry War, Batanga, Bad News Bar, OKRA, Clutch City Squire, El Gran Malo, etc.), having an even safer pedestrian environment for customers to move about promotes greater economic activity. This also ties in nicely with the city's new BCycle rental bike program. Tourists or Houstonians visiting Downtown and renting a BCycle could be directed to our fantastic Main Street bike lane to check out the rest of Downtown or as a way to get to points in Midtown.
If I count right, about 20 parking spaces would be lost along Main Street. The enhanced pedestrian, transit, and bicycle experience should easily make up for any small inconvenience this might cause. Main Street Square could be reconfigured to allow for a bike lane to pass through the current pedestrian environment.
I live and work downtown and think it would really improve quality of life.  I think this could get us a lot of positive national attention to take the move of closing Main Street to motor vehicle traffic and embracing other modes of transportation. What do you think?